Skip to Content
Invisalign® in Renton, WA
Why Choose Invisalign®
Everyone wants to have a beautiful smile full of straight, healthy teeth. If your teeth are misaligned, it could affect your health as well as your appearance. Straightening your teeth is easier than ever thanks to Invisalign®, a discreet alternative to traditional metal braces
Invisalign® is a popular choice to straighten teeth, no matter your age. Adults in particular use Invisalign. As our dentists can tell you, Invisalign® offers a multitude of benefits compared to traditional braces. Here are some advantages of Invisalign®.
Near Invisibility
The biggest benefit to choosing Invisalign® is the clear, plastic aligners that are used to straighten teeth. Unlike traditional braces with metal brackets and wires, these nearly invisible aligners straighten your teeth as you go about life feeling fully confident in your smile. Our dentists will fit you with a series of aligners, and, your teeth will be slowly moved into alignment. You will be able to talk and smile normally, and the only things people will notice are your straight teeth and beautiful smile.
Easy Eating
With metal braces, there are certain foods you should avoid. Popcorn, hard candy, and caramel, can seriously damage the metal brackets. You will not have that problem with Invisalign®. You simply pop out the aligner when you are eating, and you put it back in when you finish. With Invisalign, no food is off-limits.
Better hygiene
Traditional braces make it difficult to maintain proper dental hygiene, and many adults do not have the time to spend brushing and flossing around their braces. Since Invisalign® aligners are easily to remove, you can maintain your dental hygiene without difficulty. Remember to brush at least twice a day for two minutes and floss every day. You should also continue to check in with our team to ensure that your Invisalign® plan is on track.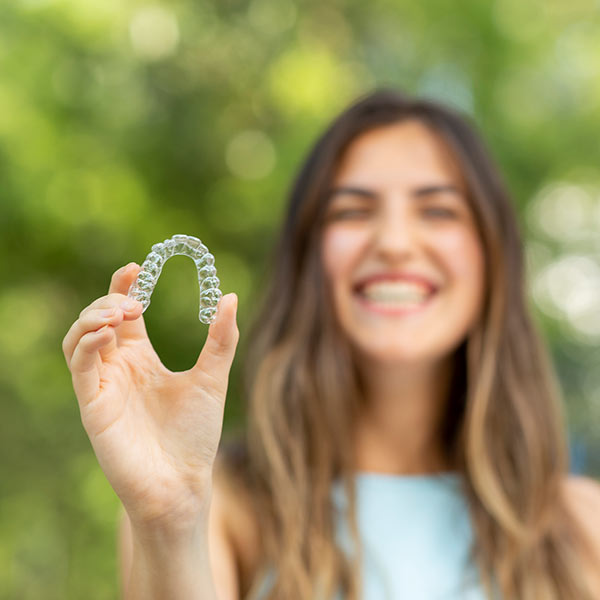 When Is the Right Time for Invisalign®?
There is no wrong time to talk to our dentists about Invisalign®. It is never too late to seek out restorative and orthodontic care for yourself. If you are curious about how Invisalign® can help straighten your teeth and restore your smile, talk to our dentists today.
Invisalign® corrects spacing issues and treats crooked and misaligned teeth. If you have gaps between your teeth, then speak with our dentists today.
The plastic aligners which make Invisalign® so revolutionary are constantly evolving and becoming more advanced.
Wearing metal braces may be embarrassing. With the virtually invisible® aligners, Invisalign® can correct your smile and no one else ever needs to know.
How Does Invisalign® Work?
The Invisalign® treatment process is different for every patient, and the first step is to meet with our dentists and discuss your situation. Our dentists will let you know if you are a good candidate for the procedure and that you understand how the process works. WE may also take pictures or impressions of your teeth using X-rays and other imaging technologies. By the end of this meeting you should have some idea of how long it might take for you to complete your treatment.
Get To Know Your Aligners
Your treatment officially begins when you receive your first set of aligners. Aligners are the clear plastic trays that will be used to guide your teeth into place throughout the course of treatment. These trays are difficult for other people to detect, and this is one of the reasons Invisalign® has become so popular. Our dentists will have you switch to new aligners approximately every two weeks. Each set of new aligners will move your teeth toward their ideal alignment.
Maintain Your Results
Before putting your aligners in, be sure to wash your hands and the aligners. Use a soft toothbrush and a toothpaste recommended by our dentists to clean your aligners. Once the aligners are in, you can go about your day without concern. You can easily drink water with the aligners in, but if you drink anything else or eat, you risk discoloring or damaging the aligners. You should remove your aligners to eat and to brush your teeth.
At the end of your treatment, your teeth should be in their proper alignment. It is possible for them to shift again, however, so our dentists will have you wear a retainer until your teeth have settled into their new positions. If you would like to schedule an appointment with our dentist, Dr. Christine Chen, please give our office a call at 425-271-1727!
Request an Appointment Today!